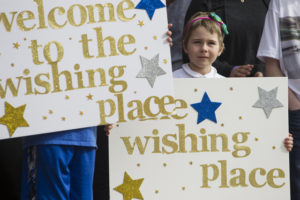 Make-A-Wish of Southern Nevada opened a new office space Friday in Summerlin called the Wishing Place.
Allegiant Airlines, a national sponsor of Make-A-Wish for nearly five years, donated $1.5 million to the nonprofit organization to help fund its new headquarters on Allegiant's Summerlin campus.
"They wanted to do something that could connect their emloyees here in the office more deeply with the mission, so it was a perfect fit," said Caroline Ciocca, president and CEO of Make-A-Wish of Southern Nevada.
At the unveiling ceremony, Tom Burns, chairman of the board for Make-A-Wish, pulled out three $1 bills and handed them to Allegiant CEO Maurice Gallagher, a gesture that signified three years' rent for the nonprofit organization.