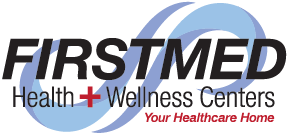 FirstMed Health and Wellness Centers is a non-profit organization providing preventive and primary health care services to patients in Las Vegas, Nevada. FirstMed was conceived in 2009 by a group of physicians and professionals primarily to be able to serve the uninsured and under-insured population. It is the core belief of FirstMed that a vulnerable population can be empowered through increased access to comprehensive healthcare services that help people become and stay employed, have adequate resources for healthy lives, and live in a healthy home and environment.
A secondary focus at FirstMed is to provide a solution to the overuse of hospital emergency rooms for indigent care while empowering this population through increased access to comprehensive healthcare services, information and resources to become and remain more productive citizens.
Our Mission and Vision
Our mission is to provide efficient, quality and affordable health care services in a holistic, caring and compassionate environment that is accessible to all. We believe our multilingual staff is positioned to meet the needs of our diverse community with services such as dental, pediatrics, vaccinations, pre-employment screenings, physicals, TB testing, and wellness programs for adult and youth.